
CLINIC HOURS
Monday,Wednesday
–
7:00-11:30AM
3:00-6:00PM
Tuesday,Thursday
–
2:00-6:00PM
Friday
–
7:00-11:30AM

DOCTORS TIMETABLE
Would like to book an appointment with our doctors? Please click "View Timetable" to view doctors' working time.
View Timetable →

To connect with Dr. Chris Kramp!

To connect with Dr. Nicole Procyk!
Where Pain Relief Comes Naturally
At our office our mission statement is:
"To glorify God by enabling every man, woman and child to achieve their optimal health in mind, body and spirit without the use of drugs and surgery; achieving this through the chiropractic adjustment, education and modeling of a healthy lifestyle."
We do this because we know that health is so much more than not feeling pain!
Marina S.

MY PAIN IS EXTREMELY REDUCED

Before seeing Dr. Kramp I was in a lot of pain from when I was pinned between two trucks. Since I've started seeing Dr. Kramp for chiropractic treatments my pain is extremely reduced. My life is better now because I'm able to move and live an active life. More importantly I'm able to work again with little to no pain. I've also found that I have far more flexibility than what I used to. Dr. Kramp is very gentle with his adjustments and I would definitely recommend him to anybody that wants to get healthier because of how I feel today.
Joe H.

THEY ARE FEELING BETTER THAN EVER.

I went to see Dr. Kramp because of lower and upper back problems. Ever since I have been seeing Dr. Kramp my upper and lower back problems are getting better. My sons also come and see Dr. Kramp and they are feeling better than ever.
Cathy V.

I'M SO GLAD THAT I MADE THE DECISION TO SEEK DR. KRAMP

When I first came to see Dr. Kramp, I had been suffering for several months from daily neck pain. I could no longer enjoy my usual activities of walking and sitting at the computer. I cannot say enough about Dr. Kramp, his staff, and the treatment I've received. Dr. Kramp is a caring, knowledgeable person who is truly gifted as a chiropractor. Within a few weeks of treatment, I no longer have any pain. I feel so much better! As I continue to receive treatment I am noticing that I am more energetic and feeling less stress. What I enjoy most about my time with Dr. Kramp is his willingness to address your concerns and provide information on improving your health. I'm so glad that I made the decision to seek chiropractic treatment. Thanks Dr. Kramp!
Latest news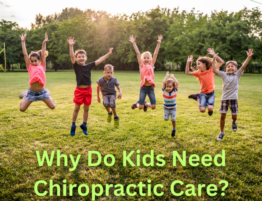 It's that time of year again when the summer days become shorter and cooler and…