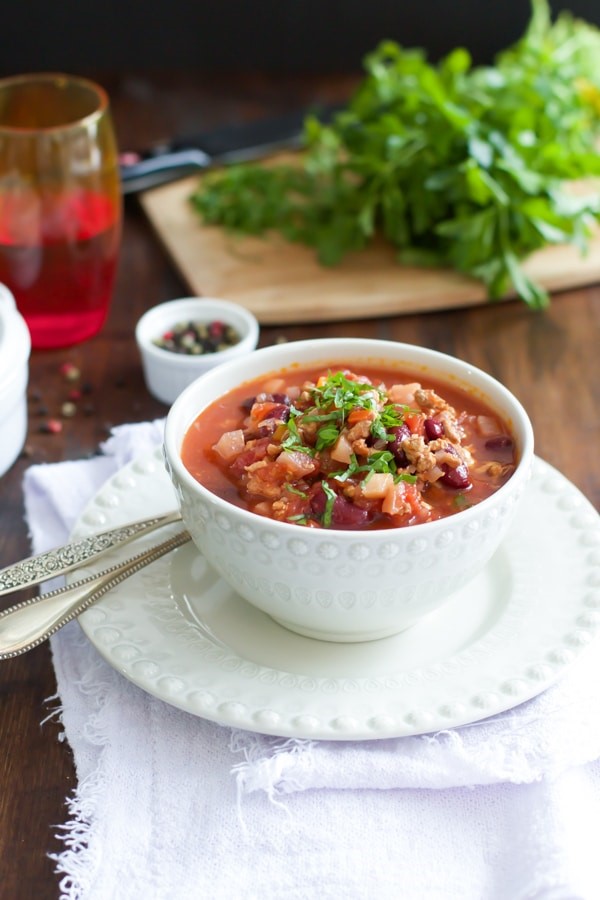 As the temperature drops we tend to reach for that comfort food.  This recipe is one that will be nice on the waistline, feed the soul, easy on the busy schedule and satisfy your taste buds so get ready for this wonderful slow cooker surprise!
Don't be fooled by the name, this Slow Cooker Beet Chili from primaverakitchen.com was a delicious surprise for me and my entire family (as we've all shared the recipe with someone complimenting its taste!).
-1 Tbp olive oil
-1 C diced onion
-2 garlic cloves (we always use more)
-3/4 lb extra lean ground turkey (we've actually made it without meat and is still amazing!)
-1 C yellow bell pepper, seeded and chopped
-1/2 C diced celery
-1 C diced turnip
-1 C diced carrots
-2 C diced beets
-1 can (19oz, 540ml) diced tomatoes, undrained
-1 C tomato sauce
-1/2 C chicken broth (to keep vegetarian, use vegetable broth)
-2 tsp crushed red pepper
-2 tsp ground cumin
-2 tsp paprika
-1/2 tsp ground coriander
-Salt and ground pepper to taste
-1 can(19 oz/540 ml) red kidney beans, drained, rinsed
-Chopped green onions for garnishing
**Omit ground turkey and use vegetable broth to make it vegetarian
Heat olive oil in a large skillet over Med-High heat.

Add onion and saute for 3 minutes then garlic, then ground turkey until turkey is cooked through.

Pour browned ground turkey into slow cooker.

Add everything else!(except kidney beans)

Stir, cover and cook on low heat for 5-6 hours.

Add kidney beans 10 minutes before serving just to warm them.

Top with greens and enjoy one the tastiest, and yet healthiest chilis I've had to date!
Huge thanks for this healthy, vegetarian or non vegetarian easy slow cooker recipe from www.primaverakitchen.com