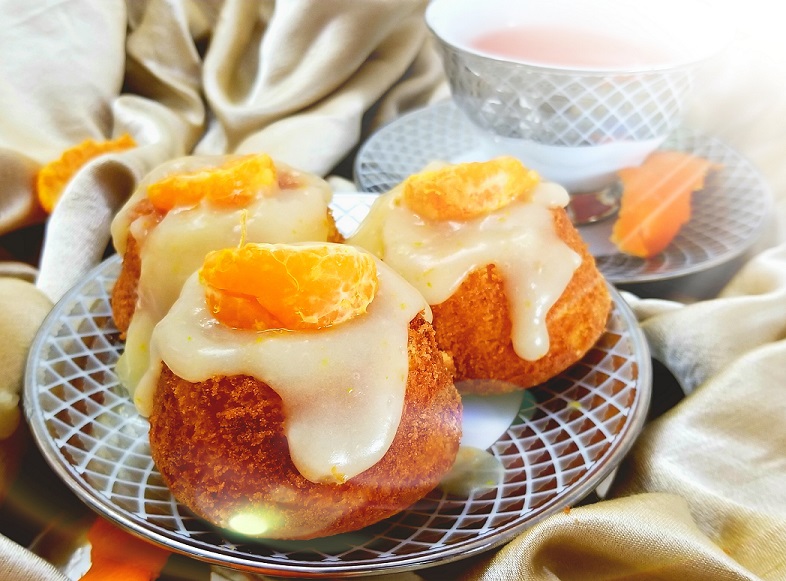 Awaken your palate and invigorate your senses with these tangerine vanilla tea cakes. The citrus, ginger and vanilla flavors sing out "it's Spring!". Not only does this dessert look pretty it also smells heavenly. These mini cakes are perfect for Mother's Day tea, baby or bridal showers, or if you just want a little treat.
Prep Time: 50 mins         Servings: 24 mini cakes
Ingredients:
Tea cakes
2 cups all-purpose flour

1/2 tsp baking powder

1/2 tsp baking soda

1/2 tsp salt

1/2 cup unsalted butter, softened

1/2 cup sugar

1 tsp fresh ginger (peeled and grated)

1 tbsp tangerine zest

1/4 cup fresh tangerine juice

1 tsp vanilla extract

3/4 cup low-fat buttermilk

2 large egg yolks, at room temperature

3 large egg whites, at room temperature

1/4 tsp cream of tartar
Glaze
1 cup powdered sugar, sifted

1 tsp tangerine zest

2 tbsp fresh tangerine juice

Tangerine slices, for garnish (optional)
Instructions:
1. Peel and blend 4-5 tangerines. Strain to remove the pulp and fibers.
2. Preheat oven to 350°F and spray two 12-cup standard muffin pans with non-stick spray.
3. Whisk together cake flour, baking powder, baking soda, and salt in a medium bowl.
4.  Beat butter and sugar in a large mixer bowl at medium speed until fluffy. Add egg yolks, one at a time, and beat until combined; beat in vanilla, ginger and tangerine zest.
5. Combine tangerine juice and buttermilk in a small bowl.
6. Reduce speed to low and add half of flour mixture to sugar mixture; beat until combined. Add buttermilk mixture, then finish with remaining flour mixture.
7. Using an electric hand mixer, beat egg whites and cream of tartar in a medium bowl at high speed until stiff peaks form. Using a spatula, carefully fold egg whites into the cake batter (add the egg whites in 3 portions). Spoon batter evenly into prepared pans.
8. Bake 20-22 minutes, until a toothpick inserted in the center comes out with a few moist crumbs attached.
9. Cool tea cakes for 5 minutes in the pans on a wire rack, then carefully remove from pans and place them on the wire rack to cool completely.
10. For the glaze, whisk together powdered sugar, tangerine zest, and juice in a small bowl. Set rack with tea cakes over a piece of wax paper and dip tops of each cake into glaze; let glaze set before serving. Store leftovers in an airtight container at room temperature up to 2 days.