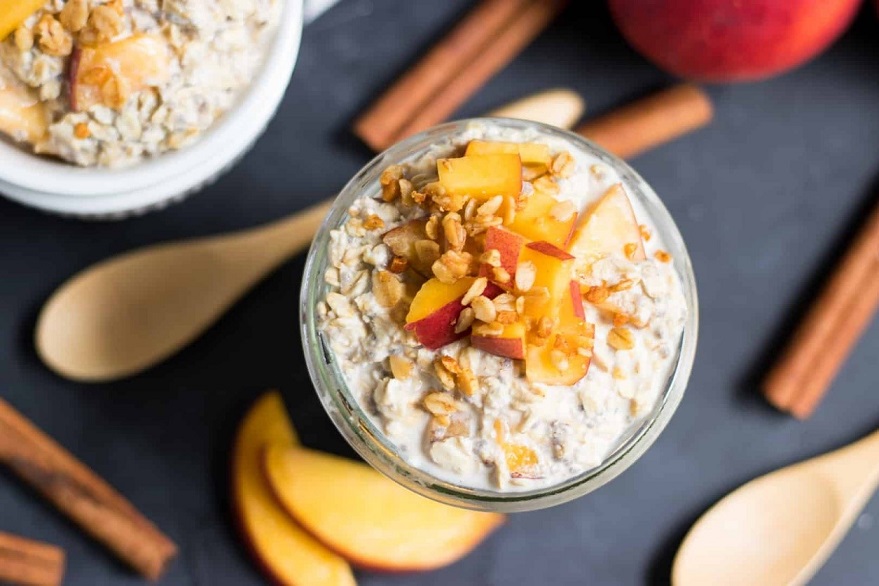 This make-ahead breakfast is easy, healthy and delicious. The fruit, spices and maple syrup transform plain oats into a dessert-like breakfast. Start your morning with a great source of carbohydrates, proteins, minerals and fatty acids to support energy, digestion, cardiovascular health, immunity and more.
Prep Time: 5-10 mins                     Servings: 1
Ingredients:
1/2 cup unsweetened almond milk (or your choice of milk), plus more to serve

1/3 cup rolled oats

1 tablespoon ground flax seed

1 tablespoon pure maple syrup, plus more to taste

1/2 cup diced fresh or frozen peaches

2 tablespoons chopped pecans

1/4 teaspoon ground cinnamon

1/4 teaspoon ground ginger

1/8 teaspoon pure vanilla extract
Instructions:
1. Pour the milk into a clean 10 to 12 ounce mason jar.
2. Add the oats, flax, and maple syrup.
3. Add the peaches, pecans, cinnamon, ginger and vanilla.
4. Screw on the lid of the mason jar tightly and shake. Set in the refrigerator for at least 4 hours and up to 3-5 days.
5. Stir in a little more milk (to your desired consistency). Shake the jar. Serve cold or warm in the microwave for about 45 seconds.