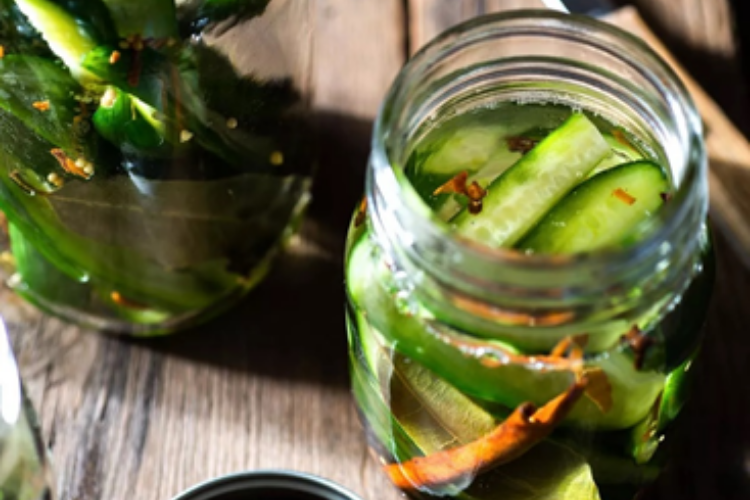 Got cucumbers? I do and I needed to find more ways to use them! These refrigerator pickles are easy and delicious. In one day, you can have crunchy, sweet pickles with subtle spicy flavour. Serve with a sandwich, burger, or appetizer. If you are like me, the jar will be empty as fast as you made them.
Prep Time: 10 mins         Cook Time: 5 mins        Chill Time: 1 day         Total Time: 1 day and 15 mins         Yield: 8 servings
EQUIPMENT
1 four-cup mason jar
Ingredients:
4 baby cucumbers (mini cukes)

1 cinnamon stick

½ teaspoon yellow mustard seeds

½ teaspoon whole cloves

½ teaspoon black peppercorns

1 star anise pod

2 cloves of garlic (peeled and scored with knife)

1 cup white wine vinegar

1 cup water

½ cup sugar

1 ½ teaspoon sea salt
Instructions:
1. Cut a small slice off the blossom end of each cucumber because the flower contains an enzyme that will soften the pickle.
2. Rinse the inside of the jar with boiling water.
3. Quarter the cucumbers and put them in the jar.
4. Add all the spices and garlic cloves to the jar.
5. In a saucepan combine vinegar, water, sugar and salt. Bring the solution to a simmer and simmer uncovered for 2 minutes.
6. Let the brine cool for a minute, then poor it into the jar. Discard any excess liquid.
7. Put the lid on the jar but not too tight.
8. Refrigerate for 24 hours before eating.
9. Store in the fridge for up to a week.