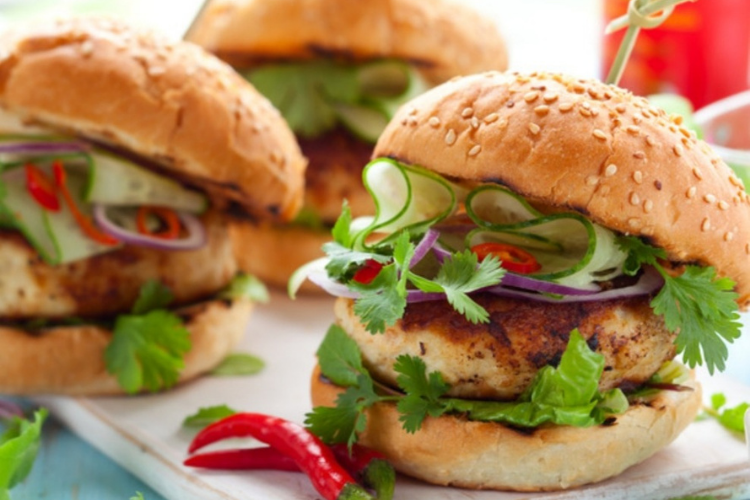 These turkey burgers are far from boring. It's true, you can have less fat with more flavor! Every bite of these burgers is infused with ginger, lemongrass, and other Asian herbs. This recipe reminds me of summer family BBQs and my favourite Thai restaurant all at the same time. Enjoy the sizzle!
Prep Time: 25 mins         Cook Time: 20 mins         Total Time: 45 mins         Main Method: Grilled
Yield: 5-6 burgers
Ingredients:
Turkey Burger:
Burger buns or lettuce leaves

1 lb ground turkey

1/2 cup breadcrumbs

1 egg

3 tablespoons red onions, finely diced

1 1/2 teaspoons fresh grated ginger

2 garlic cloves, minced

1 tablespoon finely chopped lemongrass

2 tablespoons chopped Thai basil (alternative: fresh mint or cilantro)

1 teaspoon lime zest

1 1/2 teaspoons chili flakes sauce (optional)

1 tablespoon fish sauce (or low-sodium Soy sauce)

1/2 teaspoon ground cumin
Sweet and Spicy Aioli:
¼ cup mayo

1-2 tablespoons sweet chili sauce

1 teaspoon sesame oil
Topping options: Asian slaw, grilled pineapple, ribbon cucumbers, pickled red onions or radishes, avocado
Sides: Thai mango salad, Thai cucumber salad, grilled corn
Instructions:
1. Combine all the burger ingredients in a medium bowl and mix well using hands. With wet hands, shape into 1-inch thick burgers. Place on a plate, cover with plastic wrap and refrigerate for 15 minutes.
2. Preheat grill to medium-high.
3. Mix the spicy aioli ingredients together in a small bowl.
4. Grill patties on a well-greased, pre-heated grill 5-7 minutes each side until golden and cooked through.
5. Toast or grill the buns.
6. Spread aioli on the bottom bun, top with the patty, add your toppings, add more aioli, and then add the top bun. Enjoy!!