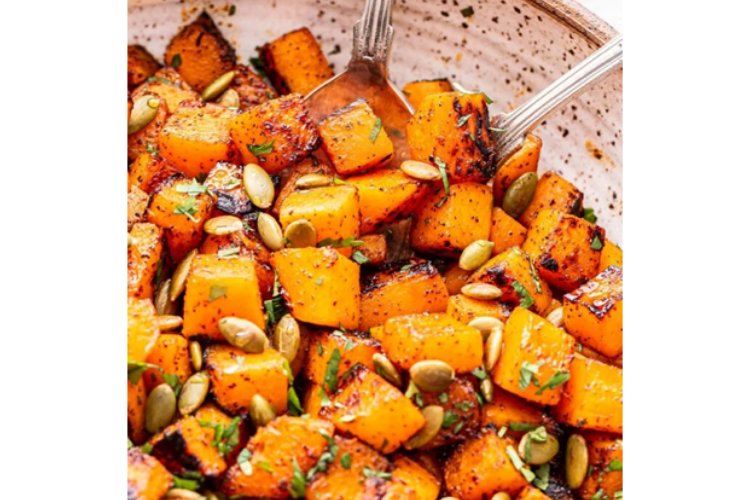 Autumn is the season for eating warming and hearty foods. This butternut squash side dish is full of comforting Southern flavours. It is both nutritious and delicious. Enjoy it as a side dish or salad topper.
Prep Time: 10 mins     Cook Time: 20-25 mins     Total Time: 30-35 mins     Main Method: Bake     Yield: 6-8 servings depending on individual portions
Ingredients:
1 large butternut squash, peeled, seeds removed and diced (about 6-8 cups)

2 tablespoons olive oil

1 ½ tablespoon honey

1 teaspoon chili powder

½ teaspoon ground cumin

½ teaspoon ground cinnamon

Sea salt and black pepper to taste

2 tablespoons toasted pepitas (shelled pumpkin seeds)

1 tablespoon chopped parsley (optional)
Instructions:
1. Preheat the oven to 400° F and line a baking sheet with aluminum foil.
2. Place the diced butternut squash onto the baking sheet and drizzle with olive oil. Sprinkle on the chili powder, cumin, cinnamon, salt and pepper. Toss everything together with your hands until coated.
3. Roast for the squash for 15 minutes. Remove the squash from the oven, drizzle with honey and toss to coat. Roast for the squash for another 5 minutes or until the squash is tender.
4. Remove the squash from the oven and allow it to cool for 10 minutes.
5. Put the squash into a serving bowl and top with toasted pepitas and chopped parsley.