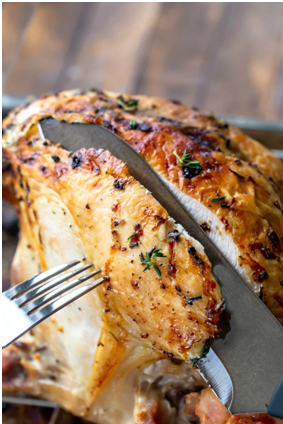 This turkey recipe is a game changer for Thanksgiving or Christmas dinner. It is moist, flavourful, and easy to make! It is a great alternative to traditional turkey recipes. Warning: You may end up in charge of making the turkey every year.
Prep Time: 15 minutes      Cook Time: 2 hours      Rest Time: 15 minutes      Total Time: 2 hours 30 minutes      Serves: 10 people
Ingredients:
6-7 pound bone-in turkey breast

1 tablespoon minced garlic (about 3 cloves)

1 teaspoon dry mustard

1 teaspoon of paprika

1 tablespoon chopped fresh rosemary leaves*

1 tablespoon chopped fresh sage leaves*

1 teaspoon chopped fresh thyme leaves*

½ tablespoon freshly ground black pepper

½ teaspoon of sea salt

2 tablespoons Renee Gourmet Sweet Onion dressing

1½ teaspoons grated orange zest

1 cup low-sodium chicken broth

1 lemon (quartered)
*these herbs are commonly sold together in a poultry blend
Instructions:
1. Preheat the oven to 325 F.
2. Wash and quarter the lemon and set it aside.
3. Place the turkey breast, skin side up, on a rack in a roasting pan. I spray the roasting pan rack with non-stick cooking spray.
4. In a small bowl, mix together the garlic, mustard, paprika, fresh chopped herbs, black pepper, salt, dressing and orange zest.
5. Rub the marinade onto the turkey. Gently pull back the skin of the turkey and rub about 1/2 of the mixture directly on the flesh. Spread the rest of the mixture evenly onto the skin.
6. Pour the chicken broth into the bottom of the roasting pan and place the lemon quarters into the cavity.
7. Roast the turkey for about 2 hours, or until the skin is golden brown and an instant-read thermometer registers 165 F when inserted into the thickest and meatiest areas of the breast.
8. If the skin starts to get too dark, tent some aluminum foil over it.
9. Remove from the oven, and let it rest for 15 minutes before slicing.