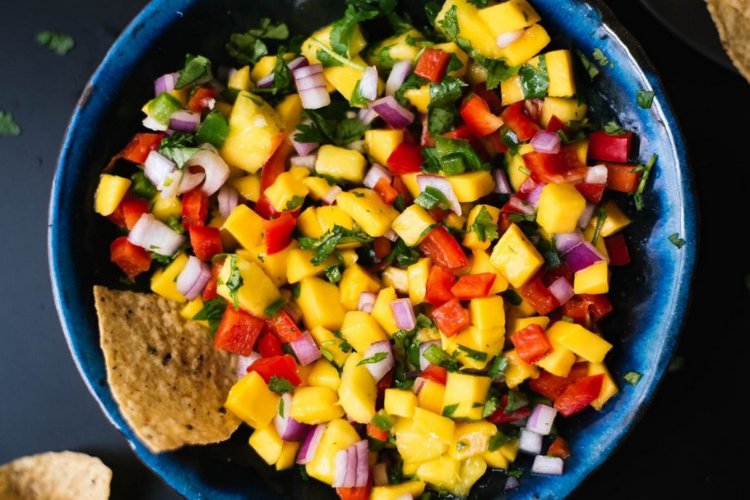 Don't you just love using fresh produce and bright and beautiful coloured foods? Follow those natural fresh whole food cravings and nourish your body!  Mangoes are in abundance right now which is the perfect time for me to introduce you to a fan favourite for hosting, or just gathering around the kitchen or outdoors.  Fresh mango salsa!
"Salsa is now the number one condiment in America." You know why? Because people like to say "salsa." "Excuse me, do you have any salsa?" "We need more salsa." "Where's the salsa? No salsa?" – anyone…? 😂
INGREDIENTS
3 ripe mangoes, diced to your desired size

1 medium red bell pepper, chopped

½ cup chopped red onion

¼ cup packed fresh cilantro leaves, chopped

1 jalapeño, seeded and minced (optional if you do not like some heat)

1 large lime, juiced (about ¼ cup lime juice)

⅛ to ¼ teaspoon salt, to taste
DIRECTIONS
In a serving bowl, combine the prepared diced mango, bell pepper, onion, cilantro and jalapeño (optional). Drizzle with the juice of one lime and mix well. Season to taste with salt. For best flavor, let the salsa rest for 10 minutes or longer.
Thank you to Cookie + Kate for this addition to our recipe book!