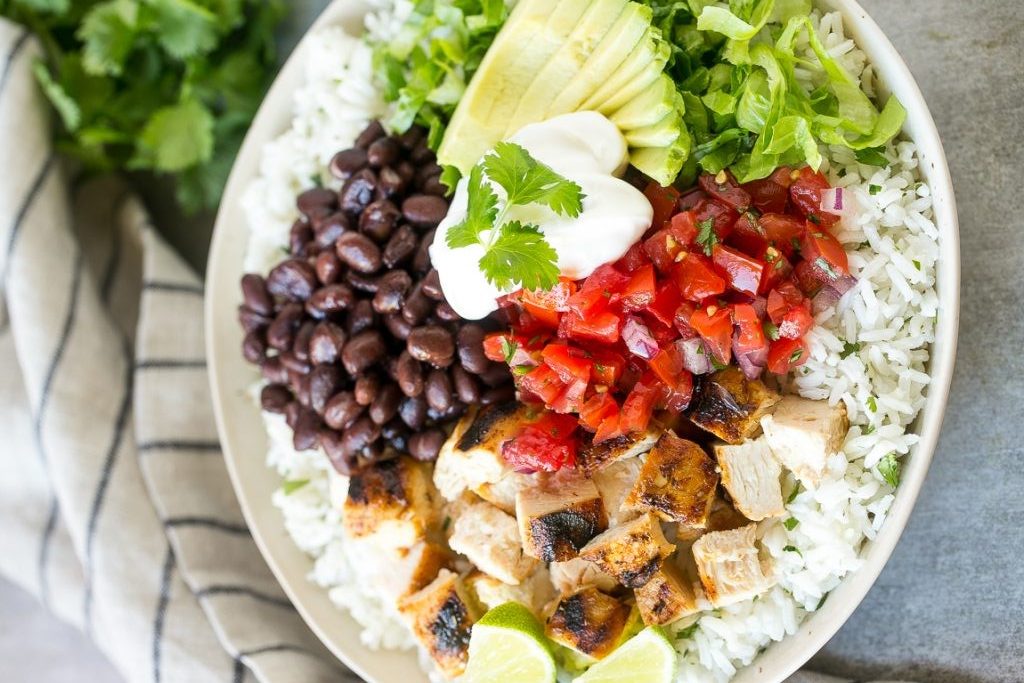 With Spring in the air, my cravings have led me to more fresh easy meals that everyone can customize so the whole family enjoys it.  Right now, I am totally obsessed with any kind of bowl.  There is definitely prep work involved but if you prep double you've got a simple quick meal for another day in the week!  This month I am featuring this recipe from Dinner at the Zoo (
https://www.dinneratthezoo.com/burrito-bowls-chicken/
).  Once you get the basics of the bowl, there are really no end to the possibilities!  This can also be altered into a salad, replacing the rice with a bed of greens or vegetarian replacing the chicken with tofu.
INGREDIENTS
Chicken:
1 1/4 pounds Boneless Skinless Chicken Breasts (ideally local, organic or hormone free)

1/4 cup olive oil

1/3 cup lime juice

1 teaspoon sugar

1 teaspoon kosher salt

1/4 teaspoon ground cumin

2 cloves garlic minced

1/4 cup water

1 1/2 teaspoons smoked paprika

1 teaspoon onion powder

1-2 tablespoons chili powder depending on the heat level of your chili powder. I use a mild chili powder so I do the full 2 tablespoons.
For The Rest Of The Bowl:
3 cups cooked rice (brown or white) but we prefer quinoa

1/3 cup chopped cilantro leaves

the juice of 1 lime

salt and pepper to taste

1 15-ounce can of black beans drained and rinsed, or any assortment of beans

1/2 cup fresh salsa or pico de gallo

1 avocado thinly sliced

1/4 cup light sour cream

1/2 cup shredded romaine lettuce

Optional: 1 can of organic corn (drained)
DIRECTIONS
1. To prepare the marinade, pour the lime juice, olive oil and water into a glass container with no leak lid. Add the garlic, sugar, salt, cumin, smoked paprika, onion powder and chili powder.
2. Seal glass container and gently tilt back and forth to combine. Add the chicken to the container of marinade, seal and place in fridge – marinate at least 30 minutes or up to 8 hours.
3. Preheat a grill, grill pan or skillet over medium high heat. Add the chicken and cook for 5-6 minutes on each side or until cooked through.
4. Chop the cooked chicken into bite sized pieces.
5. Place the rice or quinoa in a large bowl; add the cilantro, lime juice and salt and pepper to taste; toss to coat the rice evenly.
6. Divide the rice between 4 bowls. Arrange the chicken, beans, salsa, avocado, sour cream and lettuce on top of the rice. Serve immediately.