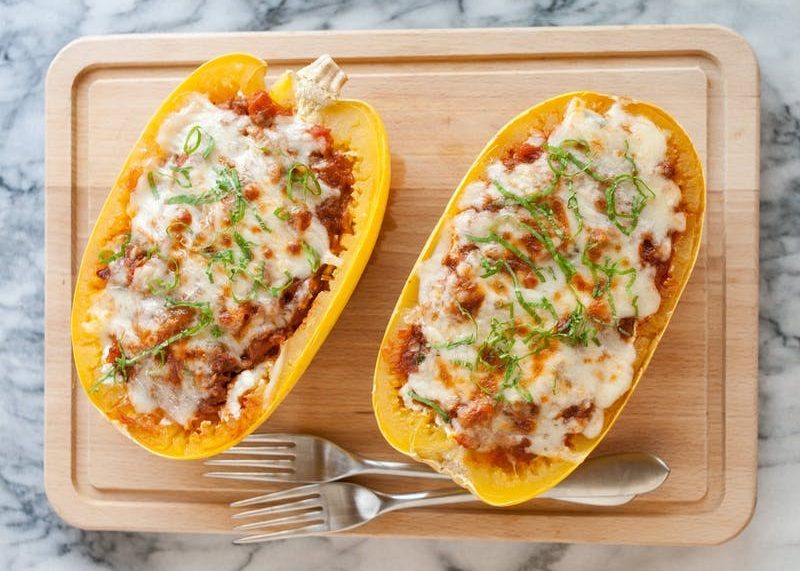 Eating seasonally is one of the best parts of home cooking and autumn is one of my favourites.  There is such an abundance of locally sourced squashes readily available this time of year, which makes them fresh and affordable.  If you haven't discovered the magic that is spaghetti squash, hold on to your knickers!  This recipe will be your new fall obsession (and help keep you warm this coming winter)!
Spaghetti Squash Lasagna
Ingredients:
1 spaghetti squash
1 lb Italian sausage(I like to buy non-GMO chorizo sausage locally from Ferme Jobin or in a pinch from Mighty Meats)
2 cups of your favorite pasta sauce(I buy Organic PC tomato & Basil Pasta Sauce from Superstore)
2 tablespoons fresh basil(I use 4 Tbl and ideally organic which can be found usually at Superstore)
½ cup ricotta cheese(I like a lot of layers so I use a full cup)
½ cup shredded mozzarella cheese (plus extra for topping),(again I use a full cup of mozza…the cheesier the better!)
Olive oil(optional)
salt & pepper(optional)
Roasting the squash
Pre-heat oven to 400 degrees.
Wash spaghetti squash, trim stem and slice squash lengthwise.  Be careful!  This is my least favorite part because the squash is tough.
Scoop out the seeds and gunk (put them in your compost or save the seeds and roast them!)
OPTIONAL: Brush with olive oil, season with salt and pepper
Place, cut side down, in baking dish (9×13 works well) with 1-2 inches of water in the bottom of the dish.
Roast for 45-60 minutes, depending on squash size, or until inside is soft and easily "fluffs" with a fork. It will look like little spaghetti noodles… hence the name, cool huh?
While squash is roasting, brown Italian sausage in large skillet over medium heat. Remove sausage from the pan and set aside
If you are using a jar sauce, add that to the pan now and simmer.  Add the sausage back into the sauce.
In a bowl, combine the ricotta, mozzarella, and fresh basil, set aside.
When squash is tender, remove from oven. Using a fork, spoon, scoop, scraper, whatever you'd like to call it, to get the inside of the squash to look like spaghetti noodles. You don't have to get at ALL of the squash, you can scoop more later when you get to the bottom after it's been.
Now FILL THEM! Start with a scoop of the red meat sauce, followed by a layer of the cheese mixture, (you can add extra mozzarella on each layer too!) and repeat the layers until you've over filled your squash, ending with a layer of red sauce and then topping them with mozzarella. TRUST ME, overfill them!
Turn the oven to broil and put them back in to brown up the cheesy top.
This recipe will be a family favorite for fall…and the plus side is you won't feel bloated like regular lasagna.