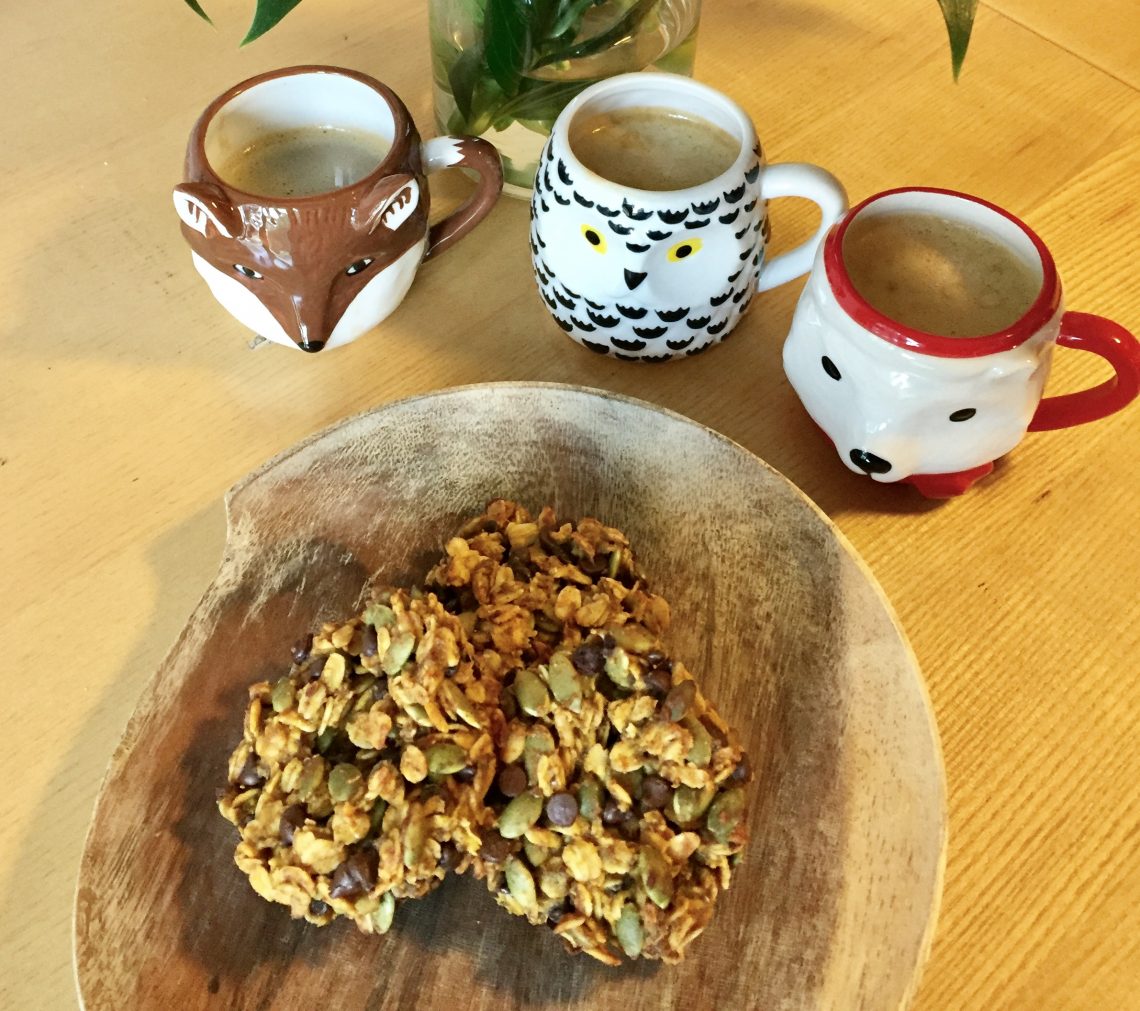 Its September, so you know what that means,…PUMPKIN everything! We know a certain popular Pumpkin Spice Latte will have everyone driving to nearest coffee shop.  I am here to tell you, you don't have to!  We have sampled some healthy at home versions that do not have toxic chemicals in it, have less calories and actually contains pumpkin! The cookies in the photo also pair so well, we have the recipe for those too (and they are BREAKFAST cookies!!) – Find them HERE!
Ingredients:
-1 shot of espresso (I used 2 because…well…I love coffee) or 4oz of very strong coffee (like press)
-3/4 cup of milk of choice
-3 Tsp organic pumpkin puree
-1 Tsp of organic maple syrup
-5 drops of stevia (I had the powder so ¼ tsp) or another ½ Tsp of maple syrup
-1/8 tsp of pumpkin pie spice
-1/8 tsp of vanilla extract
Directions:
-Make your coffee, either with your espresso machine, coffee press or even regular joe.
-Put coffee, pumpkin, spices, vanilla extract and maple syrup in a blender.
-Heat milk and stevia in a pot on stove over a medium heat (if you have a espresso maker, you can use the frother).  Once the milk is simmering, remove from heat and add to rest of ingredients that are in the blender.
-Blend for about 20-30 seconds. ***Depending on how full your blender is you may want to hold lid down with a towel over-top as the heat will want to pop lid and create extra clean up for you!  Not that I know through experience or anything!! lol***
-Pour into favorite mug using a spoon to hold back the foam, then add it on top for a nice frothy latte.
-ENJOY!  Enjoy the taste, non commute, fatter wallet, love from your body all from your new favorite healthy homemade version of the PSL thanks to www.mamanatural.com!  Tell me what you think and thanks a latte for trying it out!