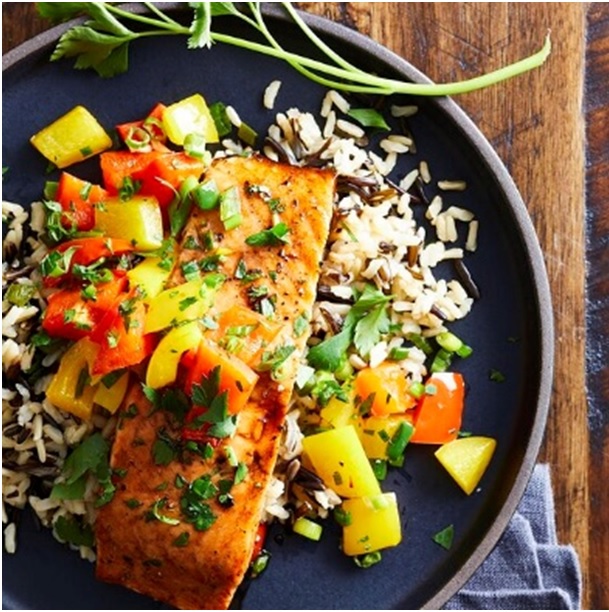 Not sure how to get more fish in your diet? In just 30 minutes you can have delicious roasted salmon with sweet notes of honey and balsamic vinegar and a kick of jalapenos served on top of wild rice pilaf. A perfect blend of sweet, spicy, and it's healthy too!
Servings: 2
Ingredients:
For The Salmon:
4 skinless salmon fillets, fresh or frozen

2 tablespoons balsamic vinegar

1 tablespoon honey

¼ teaspoon salt

⅛ teaspoon ground pepper

1 cup chopped red and/or yellow bell pepper

¼ teaspoon chilli flakes

2 scallions (green parts only), thinly sliced

¼ cup chopped fresh Italian parsley
For The Wild Rice Pilaf:
2 ⅓ cups reduced-sodium chicken broth

½ cup wild rice, rinsed

2 scallions (white parts only), thinly sliced

¼ teaspoon ground pepper

⅔ cup brown rice
Instructions:
For The Salmon:
1. Thaw salmon, if frozen. Preheat oven to 425 degrees F. Line a 15-by-10-inch baking pan with parchment paper. Place the salmon in the prepared pan. Whisk vinegar and honey in a small bowl; drizzle half of the mixture over the salmon. Sprinkle with salt and pepper.
2. Roast the salmon until the thickest part flakes easily, about 15 minutes. Drizzle with the remaining vinegar mixture.
3. Coat a 10-inch nonstick skillet with cooking spray; heat over medium heat. Add bell pepper and jalapeño; cook, stirring frequently, just until tender, 3 to 5 minutes. Remove from heat. Stir in scallion greens.
4. Top 4 of the salmon fillets with the pepper mixture and parsley. Serve with wild rice pilaf or salad.
Wild Rice Pilaf
1. Combine broth, wild rice, scallion whites, and pepper in a large saucepan; bring to a boil. Cover, reduce heat and simmer for 10 minutes.
2. Stir in brown rice; return to a boil. Cover, reduce heat and simmer until the rice is tender and most of the liquid is absorbed, 30 to 35 minutes more. Remove from heat and let stand, covered, for 5 minutes. Fluff with a fork and serve.