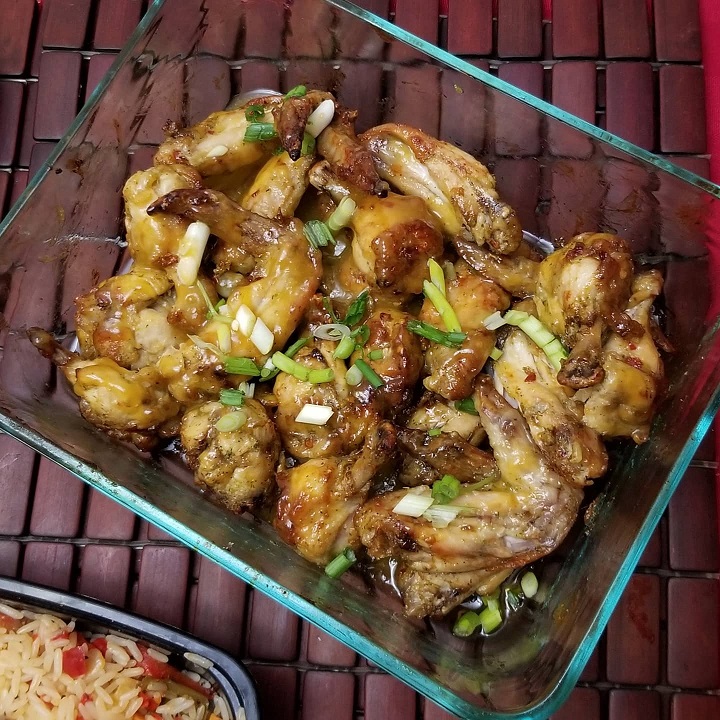 This is recipe is the result of my love of take-out Chinese orange chicken and pub-style chicken wings. The sweet and tangy taste will have you licking your fingers. If you do not like wings, you can use the orange sauce on top of chicken breast, pork and shrimp.
Time: 50 minutes
Ingredients:
For the chicken:
2 ½ lbs chicken wings, split

1 tablespoon olive oil

1 teaspoon salt

1 teaspoon paprika

1/2 teaspoon black pepper
For the sauce:
1 1/2 teaspoons sesame oil

1 1/2 teaspoons olive oil

2 cloves garlic, minced

1 teaspoon minced fresh ginger

3/4 cup orange marmalade

1/4 cup hoisin sauce
Instructions:
1. Preheat the oven to 400ºF.
2. Rinse the wings and pat dry with paper towel. Place the wings in a large bowl and toss with the olive oil, salt, paprika and black pepper.
3. Place the wings on a baking rack in a single layer. Ensure that the wings are not touching each other.
4. Bake, rotating the pan half-way through, until fully cooked (about 45 to 50 minutes). Remove wings from oven and transfer to a large bowl.
5. Add the sesame oil, olive oil, garlic and ginger in a small sauce pot. Cook on medium heat for about 3 minutes until golden brown.
6. Add the orange marmalade and hoisin sauce. Cook, stirring occasionally, for 5 minutes.
7. Pour the orange sauce over the wings, tossing to thoroughly coat, and serve immediately.