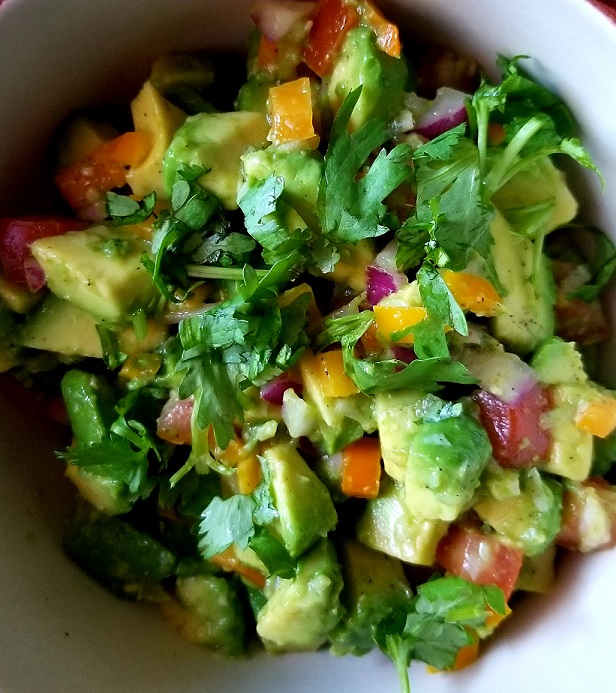 Hole mole chunky guacamole! My step-daughter loves guacamole so I am constantly making it. I make a chunkier, salsa-like version of traditional guacamole since my son dislikes "mushy things".  He can't pronounce the word "guacamole" so he calls it "gloc".  From our house to yours, try this "gloc" with tortilla chips, veggies, wraps, toast, or burgers.
Serves: 4-6
Ingredients:
4 avocados – peeled, pitted, and cubed (reserve the pits)

¼ cup diced red onions

¼ cup chopped mini bell peppers

2 Roma tomatoes – seeds removed and diced

2 tablespoons chopped fresh cilantro

1 large lime juiced

1 teaspoon olive oil

1 teaspoon minced garlic

1 teaspoon salt

½ teaspoon black pepper

½ teaspoon ground cumin
Instructions:
1. In a small bowl, combine the lime juice, olive oil, garlic, salt, black pepper, and cumin. Gently whisk the ingredients together and set aside.
2. Chop the red onions, mini bell peppers, tomatoes and cilantro and place them in a large bowl.
3. Peel, pit and chop the avocados and add them to the large bowl.
4. Pour the lime juice mixture onto the avocado mixture and gently combine the ingredients.
5. Place the avocado pits into the top the of the guacamole. This will help to prevent the avocados from turning brown.
6. Refrigerate 1 hour for best flavor.
7. When ready to serve remove the avocado pits.