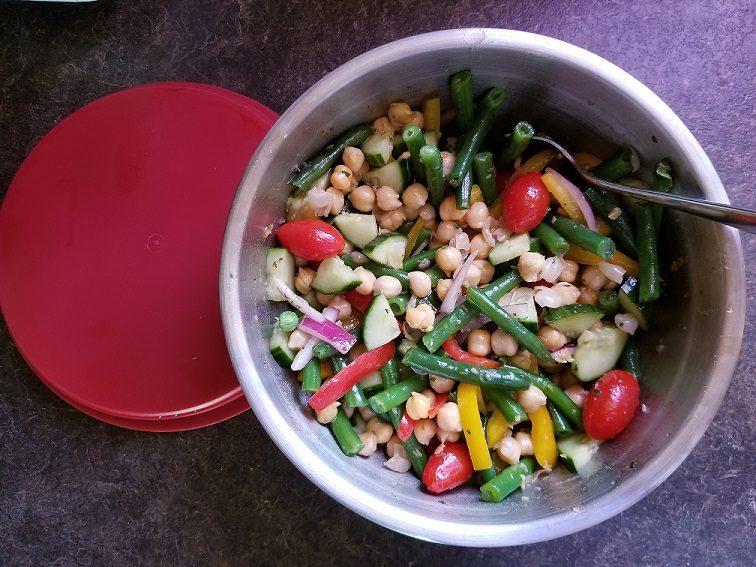 If you are looking for a way to use your garden produce or you are just tired of lettuce try this salad.  It has colourful garden favourites like green beans, cucumbers and tomatoes. The Italian inspired dressing is refreshing and delicious. This salad pairs well with anything off the grill.  I also like to serve it with some feta cheese or homemade bacon bites for extra yumminess.
Serves: 6-8
Ingredients:
Salad
2 cups of green beans (trimmed and cut into about 1.5 inch sized pieces)

1 cup of chopped cucumbers (cut into bite-size pieces)

1 cup cherry tomatoes (if they are large cut them in half)

1 bell pepper (julienned, about 1.5 inch sized pieces)

½ medium red onion (thinly sliced into half moons)

1 can chickpeas – drained and rinsed
Dressing
1/4 cup olive oil

1/4 cup red wine vinegar

1/2 tsp dried oregano

1/2 tsp dried parsley

1/2 tsp dried rosemary

zest of ½ lemon

1/4 tsp sea salt

2 tblsp chopped basil

1/2 tsp crushed garlic
Instructions:
1. Bring a pot of salted water to a boil.
2. Trim and cut the green bean and cook them in the boiling water for 2-3 minutes. Remove the pot from heat and drain the green beans in a colander. Rinse the green beans with cold water and drain them again.
3. Wash and chop the cucumber, tomatoes, bell pepper, and red onion.
4. Rinse and drain the chickpeas.
5. In a large bowl, combine the green beans, chicken peas, cucumber, tomatoes, bell pepper, and red onion.
6. In medium bowl, whisk together the olive oil, red wine vinegar, oregano, parsley, rosemary, lemon zest, salt, basil, and garlic.
7. Pour the dressing onto the vegetables and mix until well combined.
8. Serve right away, or transfer the salad to an airtight container in the fridge to serve later.