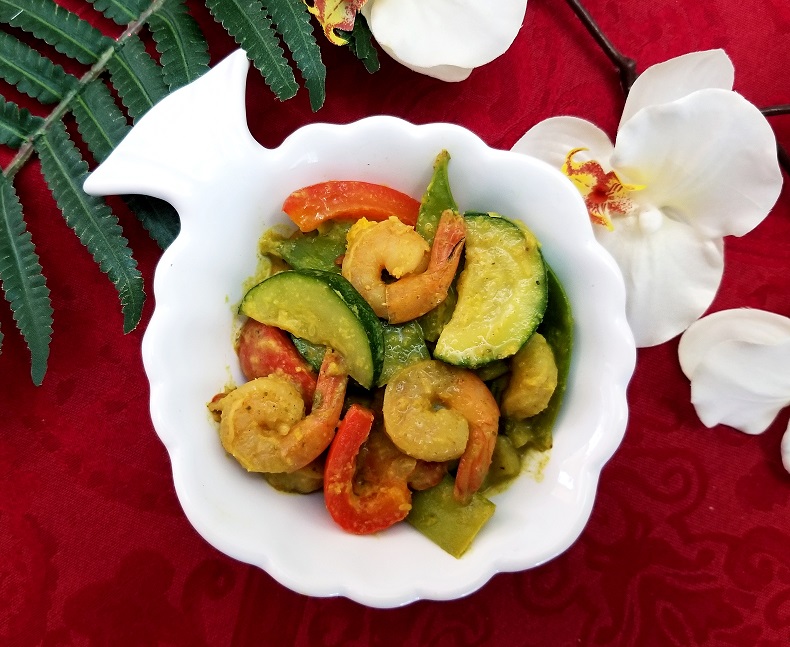 If you are craving Thai curry but can't take the heat try this recipe. It uses yellow curry paste which has a lower spice level and sweeter taste compared to red and green curries. The golden hue comes from the turmeric in it.  To learn more about the spices in curry visit our Instagram page.
Ingredients
1 ½ pounds shrimp peeled and de-veined

14 ounces coconut milk

½ cup diced tomatoes

1 tablespoon lime juice

2 tablespoon olive oil

½ onion finely chopped

2 teaspoons fresh ginger grated

3 cloves garlic minced

2 tablespoon yellow curry paste (make your own or use Thai Kitchen Gluten Free Yellow Curry Paste)

1½ teaspoons of brown sugar

1 teaspoon black pepper

½ teaspoon salt

1 red bell pepper sliced

1/3 cup zucchini sliced

1/3 cup snow peas

Optional: 2 teaspoons cornstarch

Garnish: lime slices and cilantro
Instructions
1. Sauté the onion, garlic, and ginger in olive oil in over medium heat until tender, about 3-5 minutes.
2. Add the tomatoes, coconut milk, and lime juice and bring to a simmer.
3. Stir in the curry paste, sugar, salt, and black pepper.
4. Reduce heat and simmer 5-10 minutes or until slightly thickened. Optional: To thicken sauce, combine 2 teaspoons of cornstarch with 2 teaspoons of water. Add to sauce a bit at a time to reach desired consistency. Cook 1 minute.
5. Add the bell peppers, zucchini, and snow peas.
6. Stir in the shrimp and cook an additional 5 minutes or until shrimp is cooked through.
7. Serve over rice. Garnish with lime and cilantro.