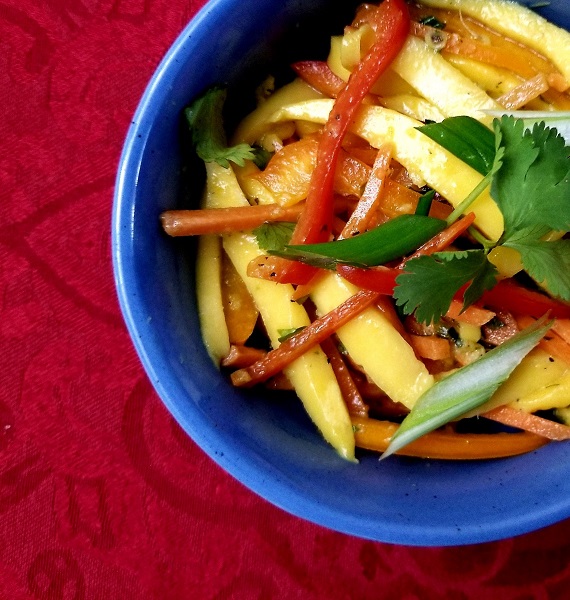 Kick start the BBQ season with this colourful mango salad. The sweet and tangy flavour perfectly compliments burgers, BBQ chicken, grilled seafood and vegetables. The brightly coloured fruits and vegetables in this salad provide Vitamin A, C, B6, B9, copper, potassium and other nutrients. To learn more about the nutritional benefits of the ingredients and for more summer recipes visit our Instagram @krampchiropractic.
Serves: 6-8
Ingredients:
Salad
2 Ataulfo mangos (semi-ripe) julienned

1 small red bell pepper julienned

1 cup carrot matchsticks

2 green onions chopped

1 tblsp chopped cilantro or parsley
Dressing
1 tblsp of olive oil

3 tblsp of lime juice

2 tsp organic honey

1/2 tsp cinnamon

1/4 tsp salt

1/2 tsp black pepper

pinch of chilli flakes (optional)

1/2 tsp grated ginger

1/2 tsp crushed garlic
Instructions
1. Wash, peel and julienne the mango.
2. Wash and chop the red bell peppers, green onions, and cilantro or parsley.
3. In a large bowl, prepare the salad by combining the mango, bell peppers, carrot matchsticks, green onions and cilantro or parsley.
4. In a small bowl, prepare the dressing by combining the olive oil, lime juice, honey, cinnamon, chilli flakes (optional), salt, and black pepper. Add the grated ginger and crushed garlic and whisk the ingredients.
5. Pour the dressing onto the mango salad and gently mix. Refrigerate for a half hour before serving.