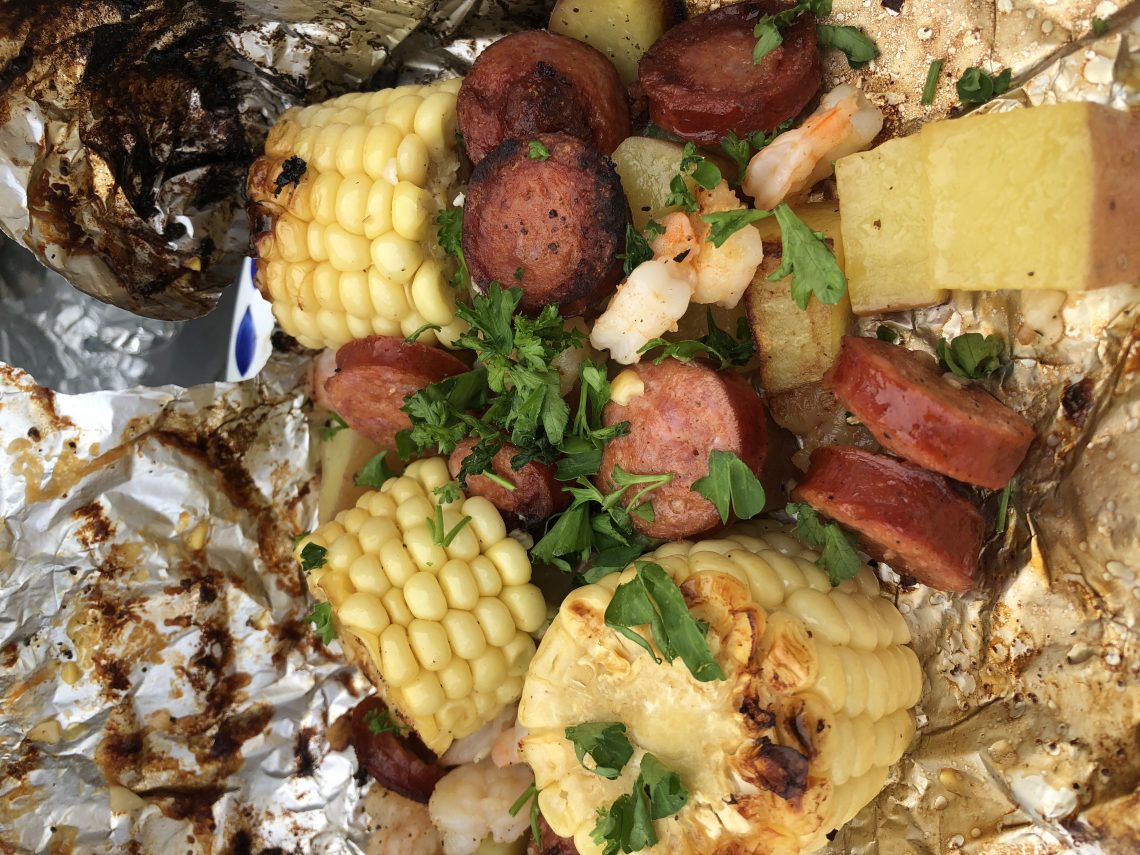 It's summer!!  It's that time of year where we love to get together, camp, and just spend every minute outdoors, which includes cooking!   I know you probably don't need help grilling a hot dog, burger or even a steak, so I'm sharing one of my favourite all in one meals.  It is simple to make, can be prepared in advance, and is easy to clean up…ahhh the dream!
Ingredients:
1.5 lbs large shrimp, peeled and de-veined (get the kiddos involved doing this task!;)

1 package smoked andouille sausage, thinly sliced (or your favourite go to sausage)

2 ears of some delicious local corn, each cut into 4 pieces

1 lb of baby red potatoes, halved

2 Tbs olive oil (or grass fed butter)

4 tsp Cajun seasoning (or if you don't want the kick, use 6 cloves of garlic minced)

Himalayan salt and freshly ground black pepper (to taste)

2 Tbs chopped fresh parsley leaves (optional but sure makes it look purdy…and yes it does have health benefits when eaten!)
Directions:
1. Preheat grill over med-high heat.
2. Cut 4 sheets of foil, approx. a foot long.  Divide shrimp, sausage, corn and potatoes into 4 equal portions and place into one half of foil in a single layer.
3. Add olive oil (or butter), Cajun seasoning (or garlic), salt and pepper. Fold other half of foil so edges closely meet.  Fold the 3 edges that are met a few times so it becomes a packet.
4. Place foil packets on the grill and cook until just cooked through, approximately 12-15 minutes.
5. Serve immediately, garnish with parsley (optional).
6. Plates optional too! (once it has cooled a bit first of course!)