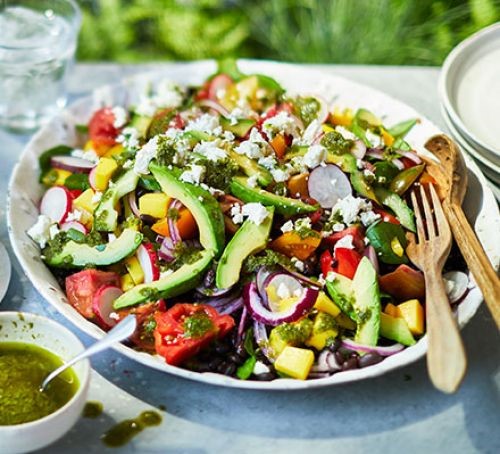 Summer is in full swing and cravings for fresh food is at its peak! Enjoy this EPIC salad recipe that incorporates sweet, salty and bitter but all together deliciousness with your friends and family – it will not disappoint!
INGREDIENTS
400g black beans, drained

2 (or more) large handfuls of spinach leaves, roughly chopped

500g heritage tomatoes, chopped into large chunks

1/2 cucumber, halved lengthwise, seeds scooped

1 mango, peeled and chopped into chunks

1 large red onion, halved and finely sliced

6-8 radishes, sliced

2 avocados, peeled and sliced

100g of feta cheese, crumbled

handful of herbs (reserved from the dressing)
For the dressing:
large bunch of mint

small bunch of coriander

small bunch of basil

1 fat green chilli (we omit), deseeded and chopped

1 small garlic clove (we love garlic so we add more)

100ml of extra virgin olive oil (or hemp oil or grapeseed oil etc)

2 limes, zested and juiced

2 tbsp white wine vinegar

2 tsp of honey
DIRECTIONS
1. Make the dressing by blending all of the ingredients in a food processor (or very finely chop them), saving a few herb leaves for the salad. You can make the dressing up to 24 hrs before serving.
2. Scatter the beans and spinach over a large platter. Arrange the tomatoes, cucumber, mango, onion and radishes on top and gently toss together with your hands. Top the salad with the avocados, feta and herbs, and serve the dressing on the side.
This salad literally takes 10 minutes to make but your friends will talk about it for weeks to come!  Thank you to https://www.bbcgoodfood.com/recipes/epic-summer-salad for the amazing recipe that our family loves for these hot summer gatherings.