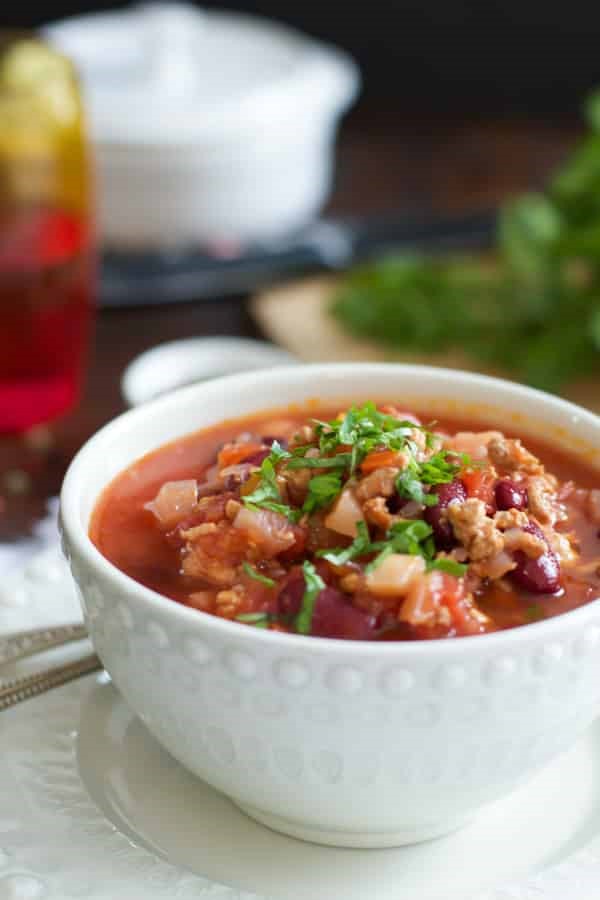 The crisp air is here, harvesting in the fields has begun and the leaves are starting to change colour.  All beautiful signs the season is changing and fall is here.  Now is the perfect time to take advantage of our cravings for warmer food and the wonderfully fresh veggies you can get this time of year. I wanted to share this simple slow cooker recipe (perfect for the start of the school year) that is nutrient dense and warms the soul.
Ingredients
1 tbsp olive oil

1 cup diced onions

2 garlic cloves — minced (we like more garlic so we use 4-5 cloves)

3/4 pound extra-lean ground turkey (or chicken)

1 cup yellow bell pepper — seeded and chopped

1/2 cup diced celery

1 cup turnip — diced

1 cup carrots — diced

2 cups beets — diced

1 can (19oz/ 540ml) diced tomatoes — undrained

1 cup tomato sauce

1/2 cup chicken broth

2 tsp crushed red pepper

2 tsp ground cumin

2 tsp paprika

1/2 tsp ground coriander

Salt and ground black pepper to taste

1 can (19oz / 540ml) red kidney beans — drained and rinsed (or mixed beans, really whatever you prefer)


Chopped green onions for garnishing (we occasionally also top with sour cream)
Directions
1. Heat olive oil in a large skillet over medium-high heat.
2. Add onion and sauté for 3 minutes, then add garlic and sauté for 30 seconds more.
3. Add extra-lean ground turkey (or chicken) to cook, breaking up the turkey with a wooden spoon, until the turkey is cooked through, about 5 minutes.
4. Pour browned ground turkey into slow cooker.
5. Add celery, turnip, carrots, beets, diced tomatoes, tomato sauce, ½ cup chicken broth, red pepper flakes, cumin, paprika, coriander, and salt and pepper to taste.
6. Stir mixture, cover with a lid and cook on low heat for 5 – 6 hours.
7. Add red kidney beans (or beans of your choice) and allow to heat for about 10 minutes.
8. Top with green onions. (and sour cream if you choose!)
This recipe is such a simple way to great a fulfilling meal that is also being nutrient dense.  Thank you to https://www.primaverakitchen.com/slow-cooker-beet-hili-recipe/ for sharing your recipe!