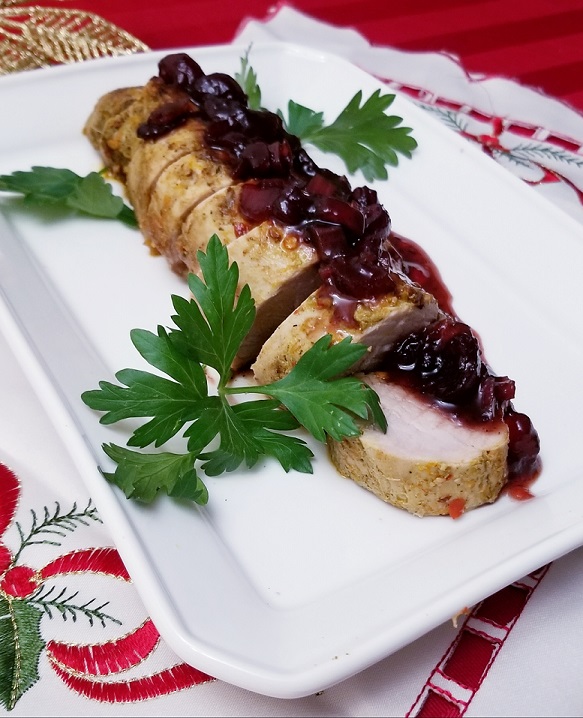 Cranberry sauce is not just for turkey! Re-purpose your cranberry sauce in this fool-proof pork tenderloin recipe. The cranberry sauce, balsamic vinegar, and orange will take your traditional tenderloin to the next level. This recipe is a must for your holiday dinner whether big or small!
Time: 30 minutes
Serves: 2-3 people
Ingredients:
1 8 to 10-ounce pork tenderloin

1 tablespoon butter

1 tablespoon chopped fresh thyme

2 cloves of garlic (crushed)

1/2 teaspoon of ground cumin

1/2 teaspoon of smoked paprika

1/2 teaspoon of black pepper

1/4 teaspoon salt

1 tablespoon of orange zest

juice 1 naval orange

1/4 cup balsamic vinegar

1 tablespoon finely chopped shallots

1 can (16 ounces) whole berry cranberry sauce

optional: 3-4 fresh rosemary springs (garnish)
Instructions:
1. Preheat oven to 450°F.
2. Sprinkle the pork with salt and pepper. Melt 1 tablespoon butter in heavy large ovenproof skillet over medium-high heat. Sear the pork on all sides, about 2 minutes on each side.
3. In a small bowl, whisk together the thyme, garlic, cumin, paprika, orange zest and orange juice. Pour the mixture onto the pork. Evenly coat all surfaces of the pork with the mixture.
4. Place skillet with the pork into the oven. Roast the pork until the thermometer inserted into the center registers 155°F, about 10-15 minutes. Periodically, baste the pork with the liquid in the pan. When the pork is cooked, reserve 2 tablespoons of the cooking liquid for the cranberry sauce.
5. Prepare the cranberry sauce: Combine the balsamic vinegar and shallots in small saucepan and bring the mixture to a boil for 30 seconds. Immediately, stir in the cranberry sauce and bring to a boil for another 30 seconds. Reduce the heat and add the reserved cooking liquid. Simmer for 3 minutes to blend flavours, stirring occasionally. Remove the sauce from the heat.
6. Let the pork rest and then carve it into slices. Serve with the warm cranberry sauce and garnish with fresh rosemary springs.