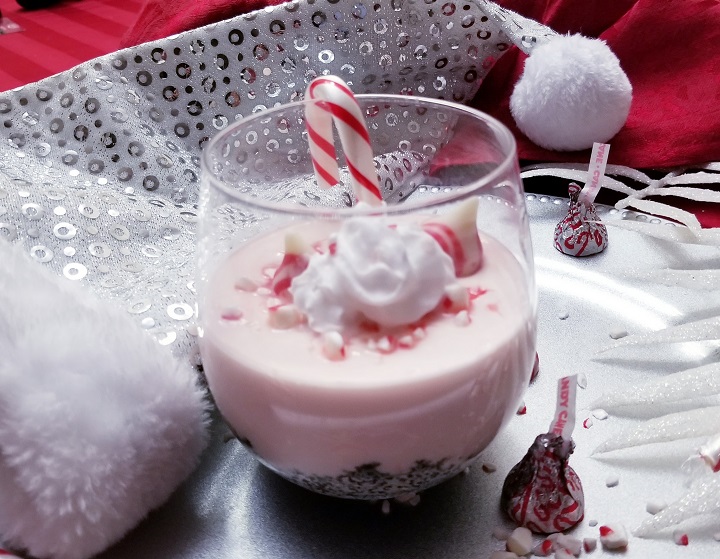 This no bake cheesecake is an easy and festive holiday dessert. The peppermint and white chocolate filling is reminiscent of holiday chocolate bark but with more elegance. It has a light and fluffy almost mousse-like texture. This decadent dessert is sure to be a crowd pleaser!
Time: 45 mins
Serves: 6
Ingredients:
14 regular size original Oreos (cream removed)

2 Tbsp butter, melted

1 1/4 cups heavy cream

8 Tbsp powdered sugar, divided into 3 tbsp & 5 tbsp

4 oz white baking chocolate

10 oz cream cheese, softened (1 8oz pkg + 2oz)

1/4 tsp peppermint extract

4 mini candy canes, crushed (divided 2 tsp finely crushed, 2 tsp coarsely crushed)

Hershey's Candy Cane Kisses (optional)
Instructions:
1. Pulse the candy canes in a food processor. Use a fine strainer to separate the coarsely crushed pieces from the fine crushed pieces.
2. In a food processor, pulse the Oreos until crushed (or use large Ziploc bag and rolling pin to crush the Oreos). Put the crushed Oreos into a mixing bowl and toss with the melted butter. Put about 2 1/2 tbsp of the Oreo mixture into 6 serving cups and level. Set the cups aside in the refrigerator.
3. Melt the white chocolate according to directions listed on the package, then allow to cool until just barely lukewarm (keep it fluid though, you don't want it to set or you will get pieces of white chocolate throughout the cheesecake).
4. In a medium mixing bowl, using an electric hand mixer, whip heavy cream until soft peaks form. Add 3 tbsp powdered sugar and whip until stiff peaks form, set aside in the refrigerator.
5. Meanwhile, in a mixing bowl using an electric hand mixer, whip cream cheese until smooth and fluffy. Mix in remaining 5 tbsp powdered sugar and 1/4 tsp peppermint extract. Stir in the warm white chocolate then fold in the whipped cream and finely crushed candy cane. Spoon mixture onto the oreo layer in the cups. Chill in refrigerator for 2 hours.
6. Garnish with the coarsely crushed candy canes and Hershey's Candy Cane Kisses.