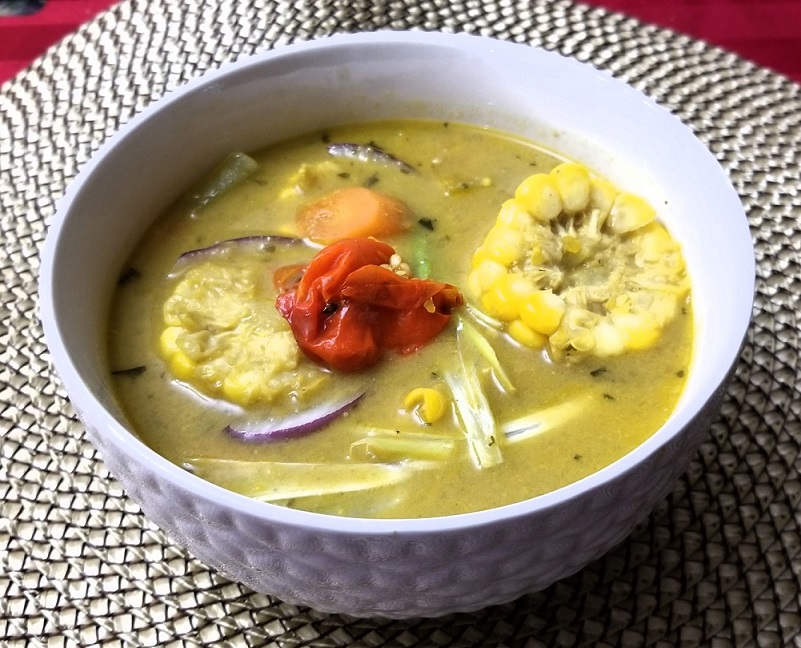 Stay warm with this easy and healthy soup. It is made with simple ingredients that are rich in antioxidants to support your immune health. The coconut milk adds a silky texture without the use of dairy products. Slurp away!
Serves: 8
Ingredients:
4 cobs of fresh corn

3 cloves garlic, finely chopped

1/4 cup onion, diced

1" knob of ginger

2 large carrots, sliced into discs

1/2 cup red bell peppers, diced

1/2 cup leeks, cut into ¼ inch pieces

1 cup of butternut squash, peeled, seeded and chopped

1 1/2 cups coconut milk (full fat)

3 cups low sodium chicken or vegetable stock

6 cups water

2 tbsp. canola oil

1 tbsp. of fresh parsley (finely chopped)

2 sprigs of fresh thyme

salt & pepper (to taste)
Instructions:
1. Cut 3 cobs of corn into about 1-inch discs and set aside.
2. Shave off the kernels of the remaining corn cob and set aside.
3. Heat the canola oil in large soup pan, over medium heat.
4. Add onions and ginger to the oil and sauté until the onions are opaque.
5. Add the shaved corn, thyme and garlic to the pot and sauté for another 2 minutes.
6. Add 3 cups water, the stock, and the squash and bring to a boil.
7. Lower stove to a low boil and cook until the squash is softened (about 20 minutes).
8. Once the squash is softened, use the back of a spoon to mash them up a bit.
9. Add the coconut milk and 3 cups water and bring to a slow boil.
10. Add the corn discs, carrots, bell peppers and leeks to the pot
11. Add salt and pepper to taste.
12. Boil until the corn discs are tender (about 15 minutes).