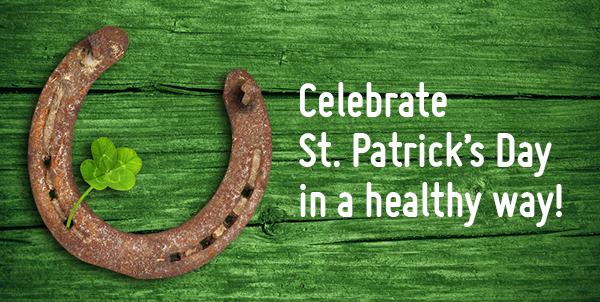 St. Patrick's Day is coming up quickly! As it marks our clinic's anniversary, we always get extra excited for St. Patrick's day and all the fun it brings. Considering we use green for our colours it really is the perfect pair! We are sure your kiddos will enjoy that extra special touch of themed food without compromising their health or your sanity. Here are some great St. Patrick's themed food ideas!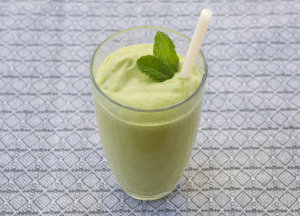 Ingredients
2 cups milk of choice (we love almond or coconut)

1 tsp mint extract

2 tsp vanilla extract

½ avocado, peeled

2 organic medjool dates (pit removed) or ¼ cup of organic maple syrup, raw honey, or vanilla stevia to taste

1 cup raw spinach, packed

4 cups ice cubes
Instructions
1. In a blender combine the milk, mint extract, vanilla, avocado, dates (or maple syrup, honey or stevia), and spinach. Blend until very smooth.
2. Add the ice cubes and blend just until it forms a shake consistency. Add more milk if it's too thick for your blender.
3. Pour the milkshake into cups and enjoy!
Make this for lunch on St. Paddy's Day, they'll have fun with it and not even know that's it nutritious for them…plus you'll be the coolest parent ever!!!
Huge thanks to Wellness Mama for this great recipe!
https://wellnessmama.com/157021/healthy-shamrock-shake/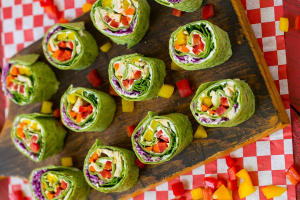 Ingredients
Spinach wraps

Cream cheese (Daiya has a dairy free brand)

Red pepper

Yellow Pepper

Carrots

Red Cabbage

Lettuce
Instructions
On a spinach wrap, lightly spread some cream cheese, then add sliced red & yellow peppers, carrots, red cabbage and lettuce. Roll tightly and then slice spacing around 1″ apart.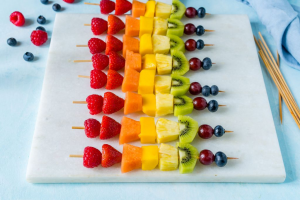 Ingredients
Variety of fruit in different colours (red, orange, yellow, green, purple and blue)

Skewers (with points removed if sending to school) or toothpicks
Instructions
Add (in order): one raspberry, strawberry, cantaloupe, mango, pineapple, kiwi, red grape, blueberry on a skewer… and voila a lucky rainbow fruit skewer of fun! You may be creative and substitute other similar coloured fruits that your family prefers but you get the idea. 😉