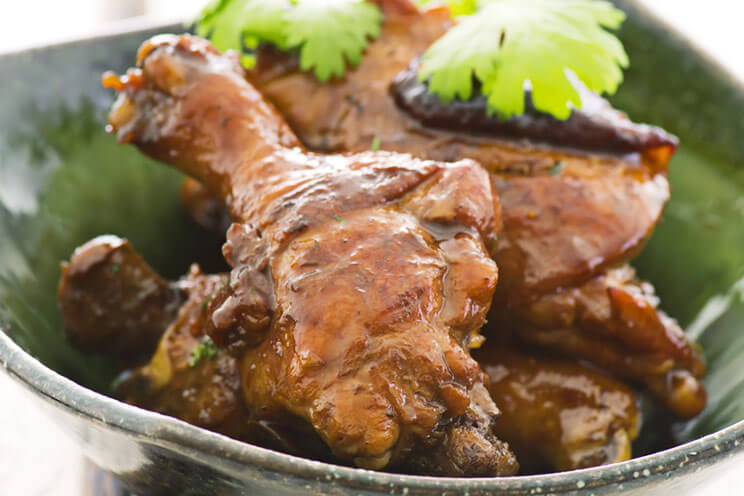 If you only have 5 minutes in the morning (or night before) to prep a supper, this is the my go-to!!  It's whole foods, gluten free and affordably organic! 
Ingredients:
– 2 lbs of chicken (I always keep the organic drumsticks from Superstore on hand)
– 1 cup of coconut aminos or soy sauce (we use Bragg's All Purpose Liquid Soy Seasoning.  Its GMO and gluten free!)
– 2 cloves of garlic (we love organic so we use almost the entire bulb! lol Organic garlic available at Superstore)
– 2 teaspoons of dried ginger or 2 tablespoons of fresh grated ginger (both organic versions available at Superstore)
– 1 teaspoon of salt
– 2 tablespoons of honey (we buy ours in the raw form locally so we get the most health benefits)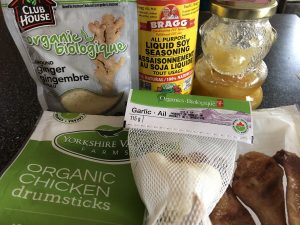 Directions:
Put everything except the chicken in a bowl and whisk together.

Place the chicken on the bottom of the crockpot.

Pour sauce over top of chicken.

Mix it so that the chicken is coated.

Cover with a lid and cook it for 4 hours on high, OR 6-8 hours on low.
That's it!  It literally takes 5 minutes to whip this recipe together and its great to have a quick go-to as a part of your rotation when it gets busy without sacrificing nutrition.  This is whole food, can be made organic, gluten free, paleo and delicious!  
As an option you can shred your meat and put it back in the sauce for an extra 20-30 minutes.