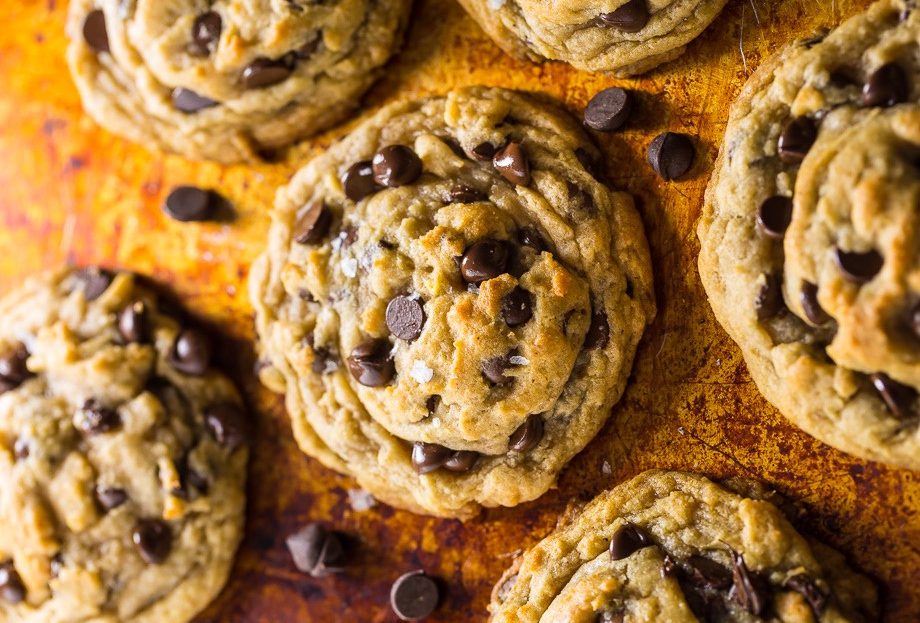 Hey y'all (bringing my time in the south out a little 😉)!   I like to share healthy recipes that are easy to make and our family can enjoy but that doesn't mean we don't have treats in the house as well.  This month I wanted to share one of our FAV cookie recipes from Baker by Nature.  We use this recipe regularly because not only are they scrumptious, they are guilt free!
INGREDIENTS
1/2 cup coconut oil, solid (be sure it is not melted at all)

1 and 1/4 cups light brown sugar, packed

2 teaspoons vanilla extract

1/4 cup coconut milk (I like to use the thicker Thai variety, but any coconut milk will work)

1/4 cup unsweetened applesauce

2 and 1/4 cups all-purpose flour (be sure not to pack your flour)

1 teaspoon baking soda

1/2 teaspoon salt

2 cups chocolate chips (use vegan chocolate chips if vegan), divided

Flaky sea salt, optional (but love what it adds to the taste!)
DIRECTIONS
1. Preheat oven to 375 degrees (F). Line a large baking sheet with parchment paper; set aside.
2. In a large bowl whisk together the coconut oil, brown sugar, and vanilla, beating until well combined. Add in the coconut milk and applesauce and whisk until well combined; set aside. In a separate bowl combine the flour, baking soda, and salt; whisk well to combine (this is a great job for the littles to perform!).
3. Add the dry ingredients into the wet mixture and, using a wooden spoon or very sturdy spatula, stir until ingredients are combined. The batter will be very thick! Fold in 1 and 3/4 cups of the chocolate chips.
4. Scoop three tablespoon sized mounds of dough onto the prepared cookie sheet, leaving a few inches between each cookies for spreading. Bake for 9 to 10 minutes, or until the edges are golden and the centers have set. Press remaining chocolate chips on top of warm cookies, and sprinkle with sea salt (if using). Cool cookies on the baking sheet for 15 minutes before transferring them to a cooling rack.
I love my daughter in the kitchen helping me as much as possible.  Yes, we go a little slower, and it may be a little messier but the memories and skills she is receiving is worth it!  Enjoy!
Thanks again to Baker By Nature for the wonderful recipe!