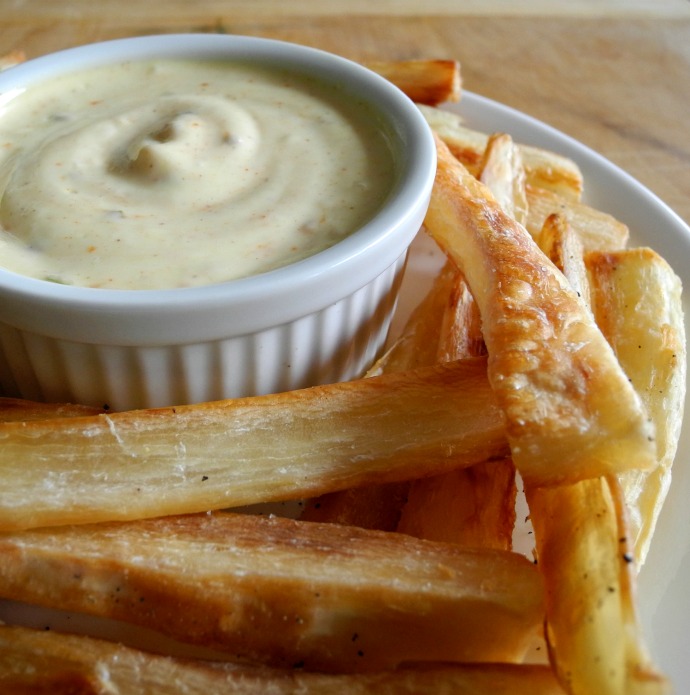 Move over sweet potato fries…there's a new fry in town and you won't look back!  Crispy Cassava (Yuca) Fries are taking over the taste bud world.
Cassava whaaa?  Yes, I thought the same thing about 6 months ago, but part of getting my little one involved in the kitchen is her picking out new vegetables or fruits we've never tried before.  A while ago she picked out Cassava root.  Its a brown, long root vegetable with a thick waxy peel.  I had heard of it before because it is often recommended to those going on an anti-inflammatory protocol and they will use their flour as an alternative.  Well, we decided to try it and now it is a family favourite and we have them almost weekly!  Again, we always make a double batch because they are easy to reheat in the oven for a snack another day.
INGREDIENTS
1-2 Yuca root aka Cassava

2-3 Tbsp coconut oil (or any oil really)

1/4 tsp of Himalayan salt

Crushed black pepper
DIRECTIONS
1. Boil water on stove (approx 8 cups).
2. Preheat oven to 425F
3. As you are waiting for the water to boil, cut off the ends of the yuca with a sharp knife. With a vegetable peeler, peel off the thick brown skin completely.
4. If the yuca is long, cut in half before slicing it into "fries" about 1/2 inch thick. There can be a fibrous layer on the inside (core), you'll want to trim that off.
5. Place the yuca in the boiling water for 10-12 minutes or until the yuca is for tender (but don't let it get too soft!) 6. Drain yuca and pat dry with a tea towel. Toss the fries in coconut oil (yuca is starchy and will absorb the oil), salt to coat them completely and line a large baking sheet (or 2) with parchment paper.
6. Arrange the yuca in a single layer giving each one a bit of space in between, this will make sure they get crispy.
7. Bake in the preheated oven for 30 minutes, turning them over half way. When they are golden brown and crisp they are ready to come out. This cooking time is dependent on how thick you have cut your fries so it can vary slightly,  Sprinkle them with pepper while still hot.
8. Serve them on their own, as a snack or as a side dish with your favourite dip!
*To reheat, pop them in the oven 350F for about 10 min.
Thanks to https://www.paleorunningmomma.com/crispy-baked-yuca-fries/ for laying out a simple recipe we can't mess up! If you like a more traditional fry, they can always be fried up in a frying pan instead of baked.