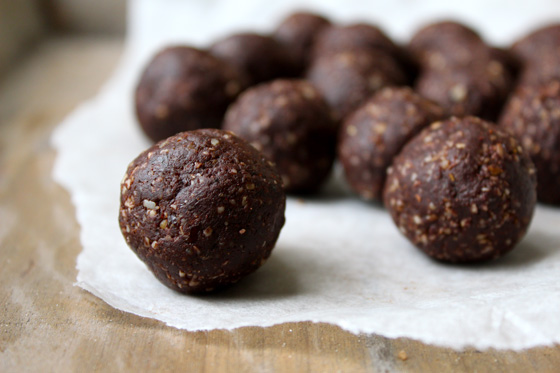 Love chocolate and brownies but not what they do for your health?  If you answered yes, then you have to try these Raw Brownie Bites which are jam packed with deliciousness!  Trust me they are parent and kid approved! 😉
Ingredients:
1 cup nuts (I use organic walnuts but you can use a mix of your favorite nuts)
1 cup of cacao powder
1 ½ cups pitted dates
*OPTIONAL pinch of Himalayan salt
Directions:
1- Pour nuts into your food processor and run until finely ground.
2- Add in cacao powder (*and salt) and pulse until well combined.
3- Add your dates, distributing evenly.  This will make your food processor work harder but don't worry its just for a minute or two.
4- With clean wet hands (makes it easier to work with the mixture), smoosh (that's my technical term! Lol) and shape into balls.  I like to make smaller ones especially for the kiddos because they always get excited eating more than one! 😉
5- Lay them on a cookie sheet that is lined with parchment paper and place them in freezer for 30 minutes.  You can then transfer them to an air tight container and keep them in the freezer til its time to grab your sweet treat!  You're welcome!