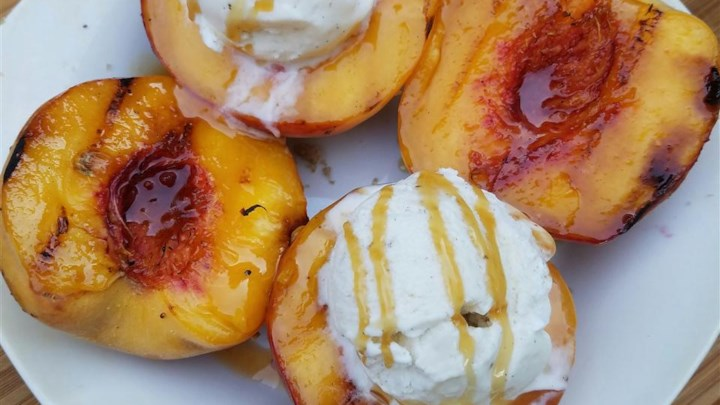 The weather is getting warmer and that only means one thing…its grilling season!  For those of you like me who have already had sizzle fever and enjoyed their favourite meal as soon as the snow was gone, I challenge you to grilling your dessert too!
A delicious healthy twist to the beautiful fruit that comes out this time of year, is to try grilling it.  Grilling peaches or pears are my go to and adding different toppings to your liking is really fun!
Ingredients:
4 fresh pieces of fruit (peaches or pears) or one pineapple.
Olive oil for brushing
Vanilla ice cream or really any topping you can think of…let your imagination guide you!
Directions:
Heat grill to medium-high.

Cut fruit (peaches or pears in half and pits removed if they contain one or pineapple in slices).

Brush cut sides with oil and place cut side down on the grill.

Grill for 3-4 minutes until grill marks appear.

Brush the tops with oil, flip, and move to indirect heat for approximately 10 minutes until warm and tender.

Serve with a scoop of ice cream, drizzle your favourite sauce or you can always wrap them in bacon prior to grilling  for that sweet and salty flavor!  You have endless options!
There are many recipes to choose from and we were inspired by the simple ones for you to then add your special touch!