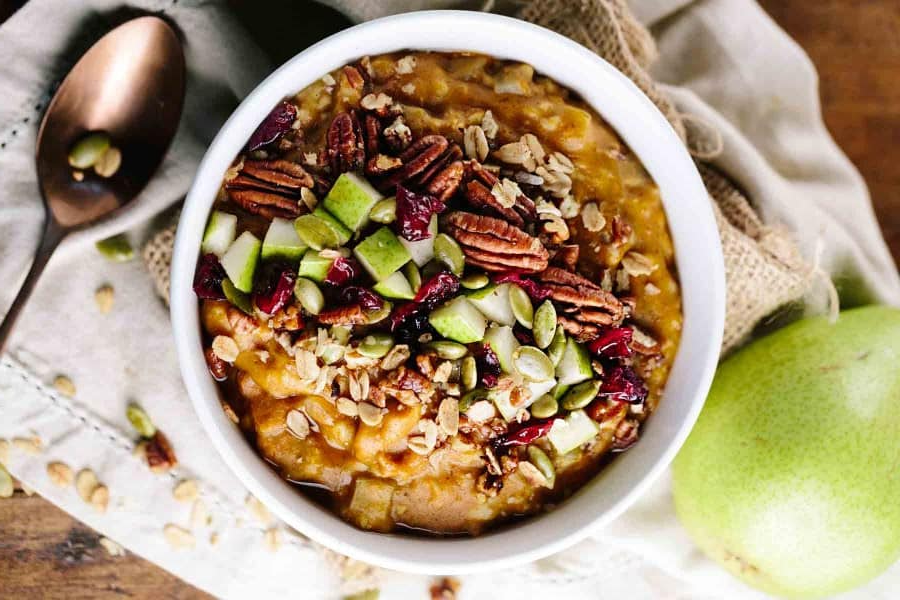 Okay, we can't fight it any longer, summer is officially gone and we have jumped straight into autumn.  Don't let the brisk temperatures keep you from being less than your Super Human Self!  Start these cool fall mornings off with a warm breakfast jam packed with a SUPER nutritious punch and minimal effort.  Great for those rushed mornings, early ice times or for the whole family just to sit and enjoy!
INGREDIENTS:
2 cups organic steel cut oats (we pick ours up at Costco)

15 ounces organic pumpkin puree (make sure its not pumpkin pie filling). You can always make your own as well!

1 1/2 teaspoons cinnamon

1/2 teaspoon ground ginger

1/4 teaspoon ground nutmeg

1/8 teaspoon ground cloves

1/4 teaspoon kosher salt

1 teaspoon pure vanilla extract

3 cups pears, 1/4-inch diced, Bosc or Barlett, skin on, about 2 pears (you can also substitute apples for pears)

6 cups water

2 cups milk (unsweetened cashew, almond, or coconut)
DIRECTIONS
1. Add all of the ingredients into a 6 quart sized slow cooker. Stir to combine. (This first step is great for the kiddos to help with!)
2. Cover slow cooker with lid and cook on high heat for 4 hours, or on low heat for 8 hours. Oats can be cooked overnight. That's it!  You will have a delicious fall smell waking you up on these cool mornings and a healthy breakfast ready for even the most rushed family member.
Also…..
You can also add toppings if desired such as pecans, diced fruit, dried fruit, seeds, maple syrup, honey or stevia.
I like to add more spices after cooking to my bowl of oatmeal for even more flavor.
You can make the oatmeal with 8 cups of water and then top with milk when serving instead.
Cooked oats last one week refrigerated in a tightly sealed container.